Newly enterprises are still in confusion in between the Udyog Aadhar and medium, small or micro-enterprise (MSME). To provide benefits such as trouble-free access to finance and to promote ease of doing business, Udyog Aadhaar was introduced by the Ministry of MSME.
In this article, we are going to explain everything about the Udyog Aadhar and MSME, what is the difference between MSME and Udyog Aadhar, how to register your entity for availing Udyog Aadhar benefits without any fee and many more related queries of the entrepreneurs.
What is Udyog Aadhar and MSME registration?
MSME Registration: The MSME Development Act, 2006 has extended the scope of the MSME sector. Earlier the MSME registration process involved filling of eleven forms and but the present Udyog Aadhar registration involves filling of barely two forms and can be done entirely online.
After the MSME Development Act, 2006, the registration process for the MSMEs involved the filing of two forms, i.e. Entrepreneurs Memorandum I (EM I) and Entrepreneurs Memorandum II (EM II).
The Ministry of MSME introduced the Udyog Aadhaar registration with the aim to promote ease of doing business and simplify the process of MSME registration. Just like the Aadhaar number serves as identification, Udyog Aadhaar is identification for micro, small and medium businesses and is therefore termed as MSME Registration too.
Before Udyog Aadhar, the MSME registration was a time consuming process which involved a lot of paperwork. To simplify the MSME registration process, the Ministry of MSME has introduced Udyog Aadhar.
Udyog Aadhar: Udyog Aadhar is a twelve digit unique identification number government registration with a recognition certificate to certify micro, small and medium enterprises. The Ministry of Micro, Small, Medium Enterprises, Government of India is responsible for issuing Udyog Aadhar.
What is Udyog Aadhar Mmeorandum (UAM)?
Udyog Aadhaar Memorandum (UAM) is a one-page registration form. In this form, MSME certifies its existence, bank account details, Aadhaar details and other information as required by self-declaration.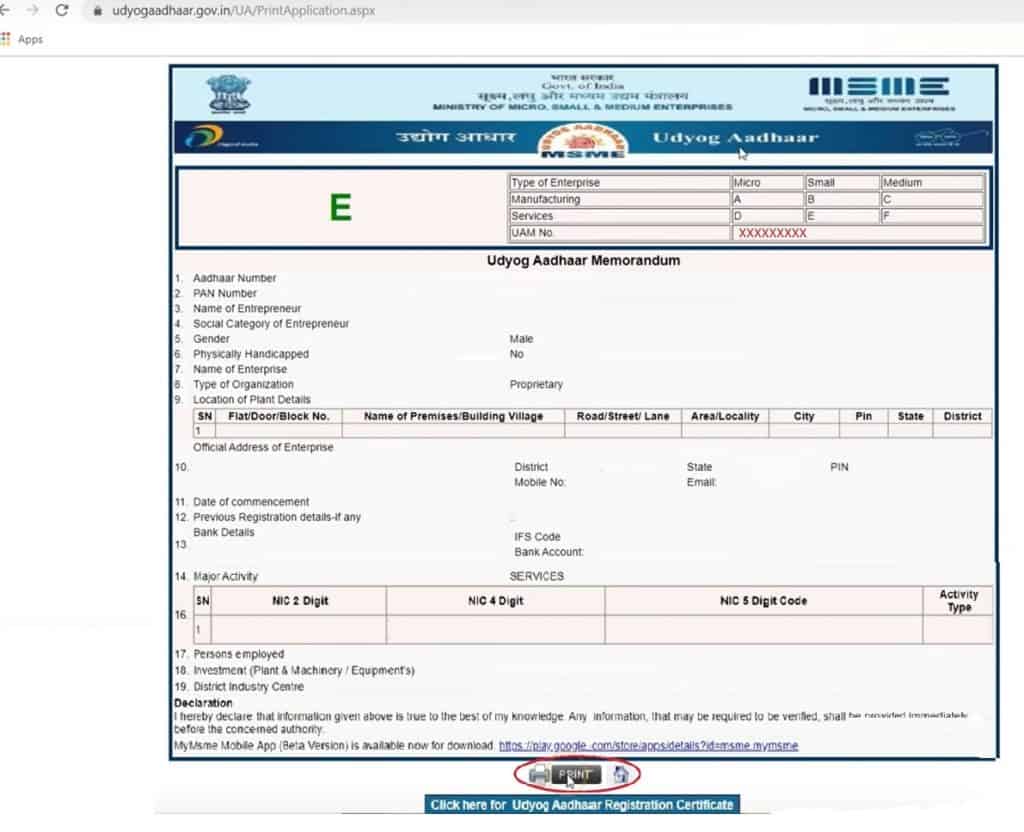 Once MSME submits the UAM, they will receive an acknowledgment containing the Udyog Aadhaar Number.
Features of Udyog Aadhar
Single page online registration
Can file more than one Udyog Aadhar with same Aadhar number
Free of cost registration
Benefits of Udyog Aadhar
An enterprise can obtain numerous benefits of Udyog Aadhar as follows:
Easy bank loan upto one crore without any collateral/ mortgage
1 per cent Exemption on the interest rate on Bank Over Draft (OD)
Concession in Electricity Bills
Protection against the delayed payments
Tax Rebates
Octroi Benefits
Special 50 per cent discount on Government fees for Trademark and Patent
Fast Resolution of Disputes
Eligible for government subsidies
Exemption under direct tax laws
Avail Excise Exemption Scheme
Minimum alternate tax (MAT) credit allowed for up to 15 years
Waiver of Stamp duty and registration charges
Reimbursement of payment made for obtaining ISO registration, Trade Mark, Patent or Intellectual Property
Concession in electricity bills
Gains preference for government certification
Become a part of International business fairs
Eligibility for Udyog Aadhar
Every type of business entity is eligible to obtain the Udyog Aadhar:
Proprietorship
Hindu Undivided Family (HUF)
One Person Company (OPC)
Partnership firm
Limited liability partnership (LLP)
Private limited or limited company
Co-operative Societies or
Any association of persons
However, you must be aware that for getting the MSME registration, your entity must meet a specified set of criteria as defined under defined in the MSMED Act, 2006. The table below prescribed the entities based on investment in plant and machinery is eligible for Udyog Aadhaar.
Classification
Manufacturing Sector
(investment in plant & machinery)
Service Sector
(investment in equipment)
Micro Enterprise
Upto Rs. 25 lakhs
Upto Rs. 10 lakhs
Small Enterprise
More than Rs 25 Lakhs but Upto Rs.5 crore
More than Rs 10 Lakhs but Upto Rs.2
Medium Enterprise
More than Rs 5 Crores but Upto Rs.10
More than Rs 2 Crores but Upto Rs.5 crores
Documents required for Udyog Aadhar registration
To obtain the Udyog Aadhar, you need to submit the following documents:
Name (as mentioned in Aadhar card) and Aadhar number of the owner
Business name under which it is conduction business
Type of organization
PAN number
Bank account details
Proof of social category, i.e. SC, ST or OBC
Previous MSME registration details of your enterprise
Current address proof
National Industrial Classification (NIC) Code
Number of persons employed
Investment in Plant & Machinery / Equipment
District Industry Center (DIC)
How to register for free Udhyog Aadhar?
The Udhyog Aadhar registration process is simple and very straightforward. Follow the below-mentioned steps and get your free MSME registration certificate:
Step 1: Visit the official website of Udhyog Aadhar Registration https://udyogaadhaar.gov.in/UA/UAM_Registration.aspx
Step 2: On the Home page, you will see "UDYOG AADHAAR REGISTRATION FORM." Here you need to fill 12 digit Aadhar number (your Aadhar number) and Name of Entrepreneur (your name). Now, click on the "Validate & Generate OTP." You will receive an OTP on your registration number.
Step 3: Enter the OTP, and you will be directed to a form containing the "Enterprise details".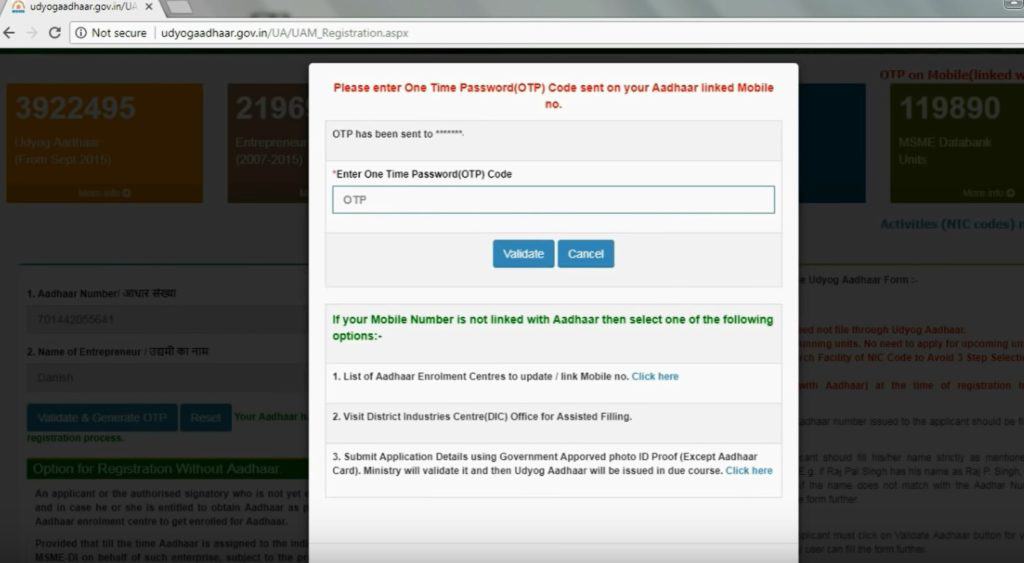 Step 4: Fill the details such as enterprise name, type of organization, activity, complete address of the enterprise, email address, mobile number, bank details, the date of commencement of business entity, etc.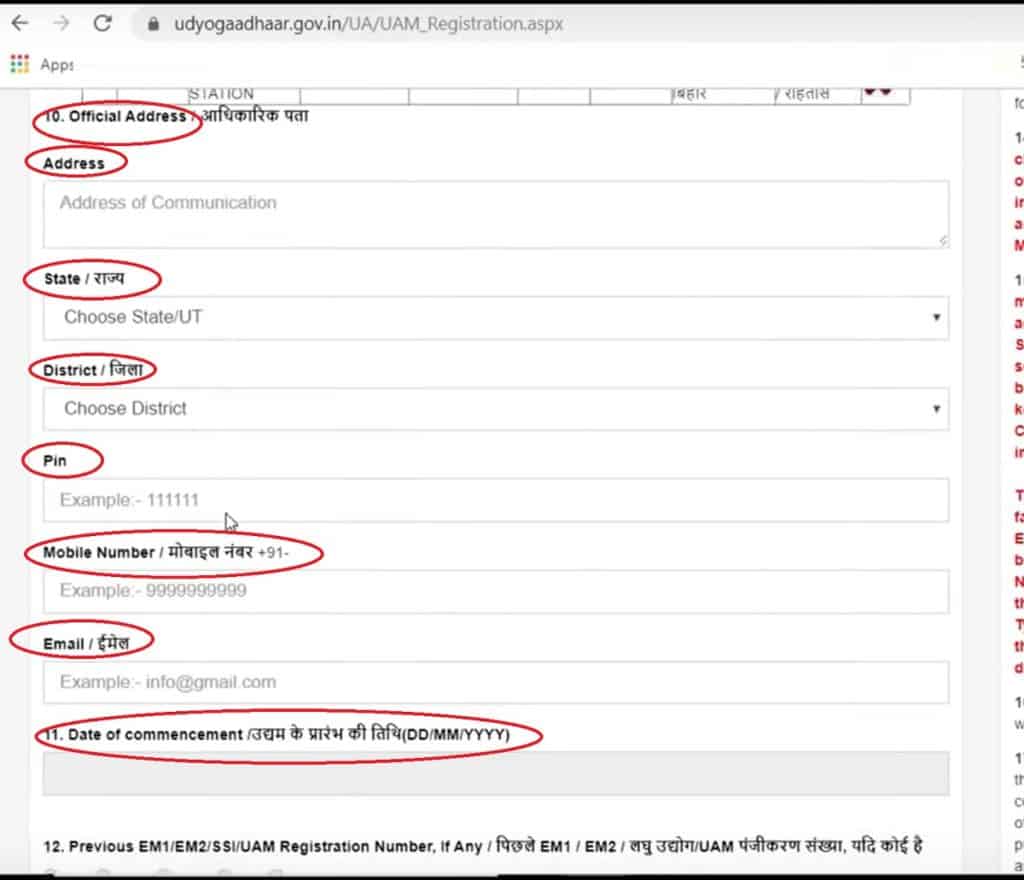 Other major details
If you own more than one entity or enterprise, you will have to file a separate Udyog Aadhar
Previous Registration Details (if any) – If an enterprise is already issued a valid EMI/II as per the MSMED Act 2006 or the SSI registration, then mention such number.
Mention the activity, i.e. either 'Manufacturing' or 'Service' for Udyog Aadhaar. However, if your company is engaged in both activities, mention the major activity, either manufacturing or service.
NIC Code– Choose the appropriate National Industrial Classification-2008 (NIC) Code for the selected "Major Activity".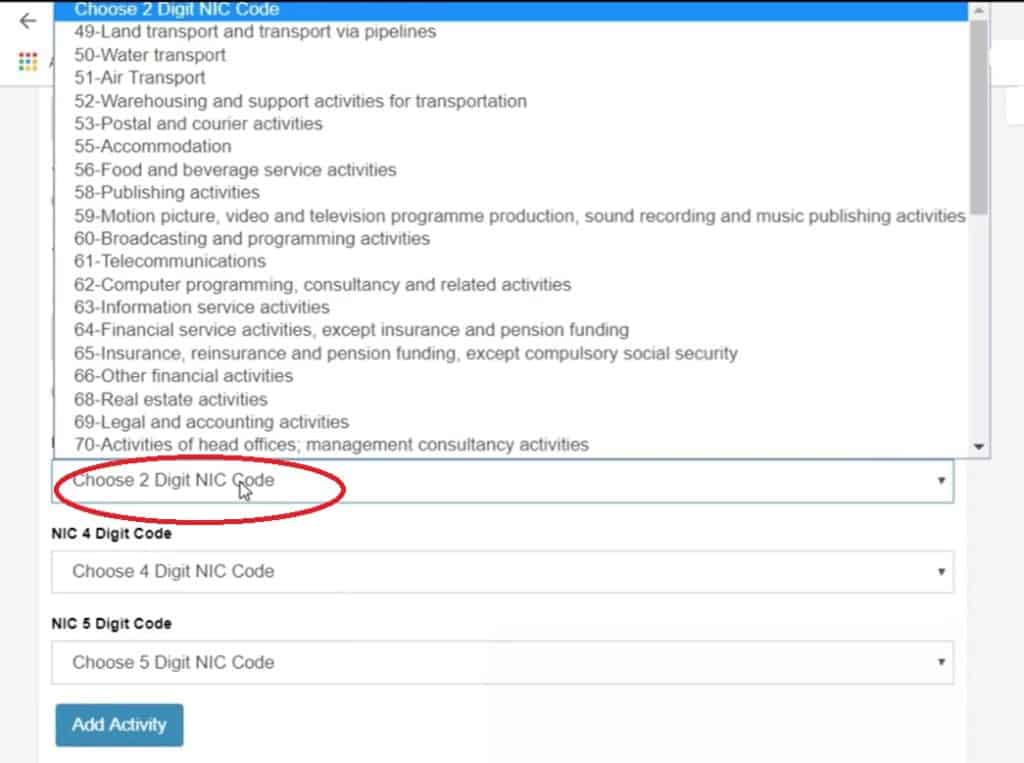 Person employed– Mention the total number of people who are directly getting salary/ wages by the enterprise.
Investment in Plant & Machinery / Equipment– The original investment (purchase value) is to be taken into account. It shall exclude the cost of research and development, industrial safety devices, etc.
DIC: Select district industry center (DIC) from the drop-down list DICs in the district.
Step 5: After filling the details, accept the declaration and click on the "Submit" button and you will receive one more OTP for the verification of your registered number.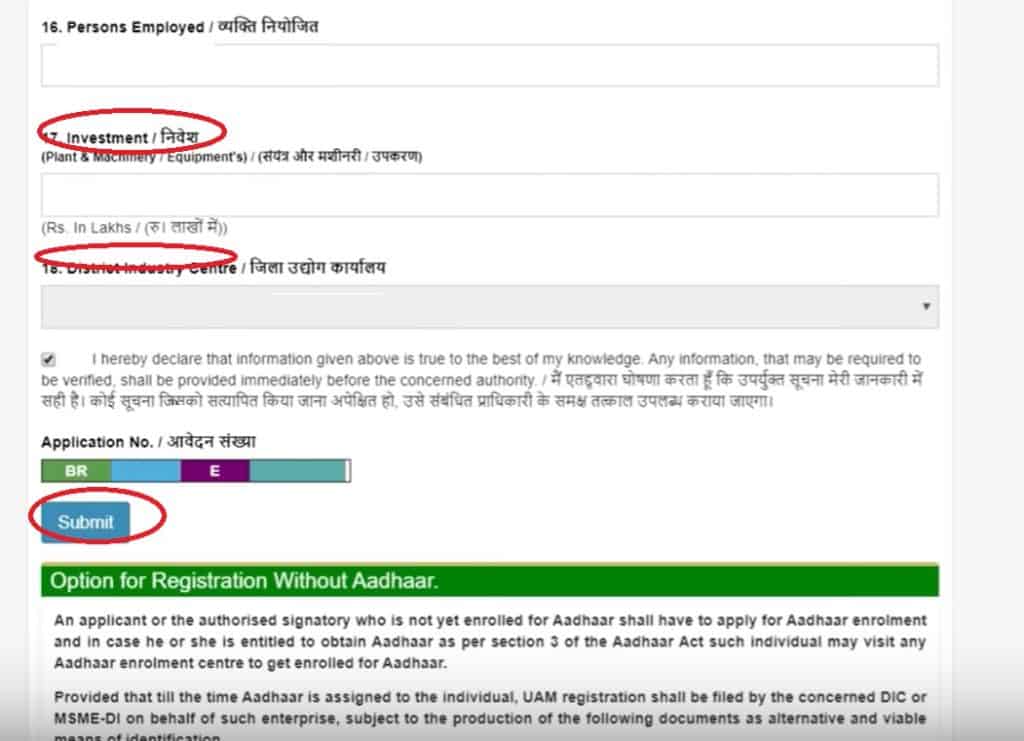 Step 6: Submit the OTP to complete the registration process. You will get an acknowledgment number for further references.
Note: MSME registration process is free of cost and the official website https://udyogaadhaar.gov.in/UA/UAM_Registration.aspx doesn't charge any fee for issuing the certificate.
How to edit Udyog Aadhar details?
If you have already obtained a Udyog Aadhar for your enterprise, but you find that there is some mistake, then you can easily edit the details.
The MSME has launched a new provision to edit or update the Udyog Aadhar Memorandum with a simple process.
Log in the portal by using your Udyog Aadhaar Number and OTP received on your registered number.
A page with edit information will open to edit or update the details.
Frequently Asked Questions
1. Can Udyog Aadhar be obtained before starting the business?
The existing Manufacturing and Service sector businesses can apply for Udyog Aadhaar
2. What is the validity of Udyog Aadhar?
There is no expiration of the Udyog Aadhar. It can be used for the life of the business.
3. Do we need to renew the Udyog Aadhar?
No, as there is no validity date of Udyog Aadhar. There are no renewal criteria.
4. Has EM-I/II been replaced by UAM?
Yes. UAM registration has replaced the filing of EM-I/II by States/UTs, and instead of EM-I/II, the filing of UAM on the portal is encouraged.
5. When should I apply for UAM registration?
UAM is applicable for Udyog Aadhaar (UA) is for existing running units only. There is no need to apply for upcoming units.